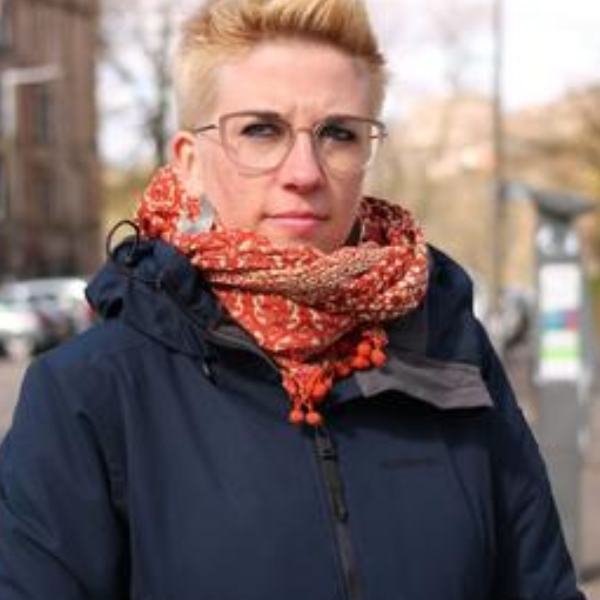 The information can be seen in BSL here:
Annelies Kusters, an expert in the study of deaf communities across the globe for nearly two decades, has recently been promoted to the position of Professor in the Department of Languages and Intercultural Studies at Heriot-Watt. This department is renowned globally for its contributions to Deaf Studies and Sign Language Interpreting Studies.
"I realise I am very privileged that I have made it this far," Professor Kusters acknowledges. "But I am standing on the shoulders of the deaf lecturers and scholars who educated me – and I support others to stand on mine!"
Despite the presence of deaf Professors in Deaf Studies and Sign Language Studies in Europe and the United States, the UK has a scarcity, with only 10 to 15 hearing individuals holding full Professor positions in these fields, according to Professor Kusters.
Her research focus revolves around "observing deaf people in their day-to-day lives," leading her to various locations such as Ghana, India, Surinam, Brazil, Kenya, Italy, Denmark, and France. She emphasises understanding how deaf individuals communicate and socialise in their daily routines rather than solely concentrating on genetics or linguistics.
One of Professor Kusters' significant projects was as the Principal Investigator for MobileDeaf, a European Research Council-funded initiative exploring how deaf people from different countries adapt their signing to communicate effectively. Additionally, she has directed seven ethnographic films based on her research since 2015.
As the leader of SIGNS@HWU, a research group at Heriot-Watt University focusing on Deaf Studies, sign linguistics, and sign language interpreting studies, Professor Kusters highlights the vibrant research culture within the group.
Heriot-Watt is hailed as "world-leading" in Deaf Studies, housing the largest number of Deaf Studies researchers in a single institute in Europe and the UK, according to Professor Kusters.
Born in Belgium, Professor Kusters earned her Bachelor of Arts in Philosophy and Master of Arts in Social and Cultural Anthropology at the University of Leuven before completing her Master of Science and Doctor of Philosophy (PhD) in Deaf Studies in Bristol.
Before joining Heriot-Watt University in 2017, Professor Kusters spent four years in Gottingen, Germany, working as a postdoctoral researcher at the Max Planck Institute for the Study of Religious and Ethnic Diversity.
Supporting other deaf scholars in their careers is a particular passion for Professor Kusters.
"I'm especially passionate about supporting other deaf scholars in their careers," she said. "This can be through supervising deaf scholars, mentoring, supporting my deaf colleagues, delivering training, taking part in international deaf scholars' networks and other kinds of support."
Professor Jemina Napier, Chair of Intercultural Communication and Associate Principal for Research Culture & People at Heriot-Watt University, expresses pride in having the first deaf full Professor in the UK. She acknowledges Professor Kusters as an exemplar for fostering a vibrant and inclusive research culture within the SIGNS@HWU group.
Professor Kusters also holds the position of Co-Director of Engagement at the School of Social Sciences and is recognized as one of the five academics from Heriot-Watt's School of Social Sciences on Stanford University's World's Top 2% of Scientists List for 2023, measuring academic performance based on research citations.