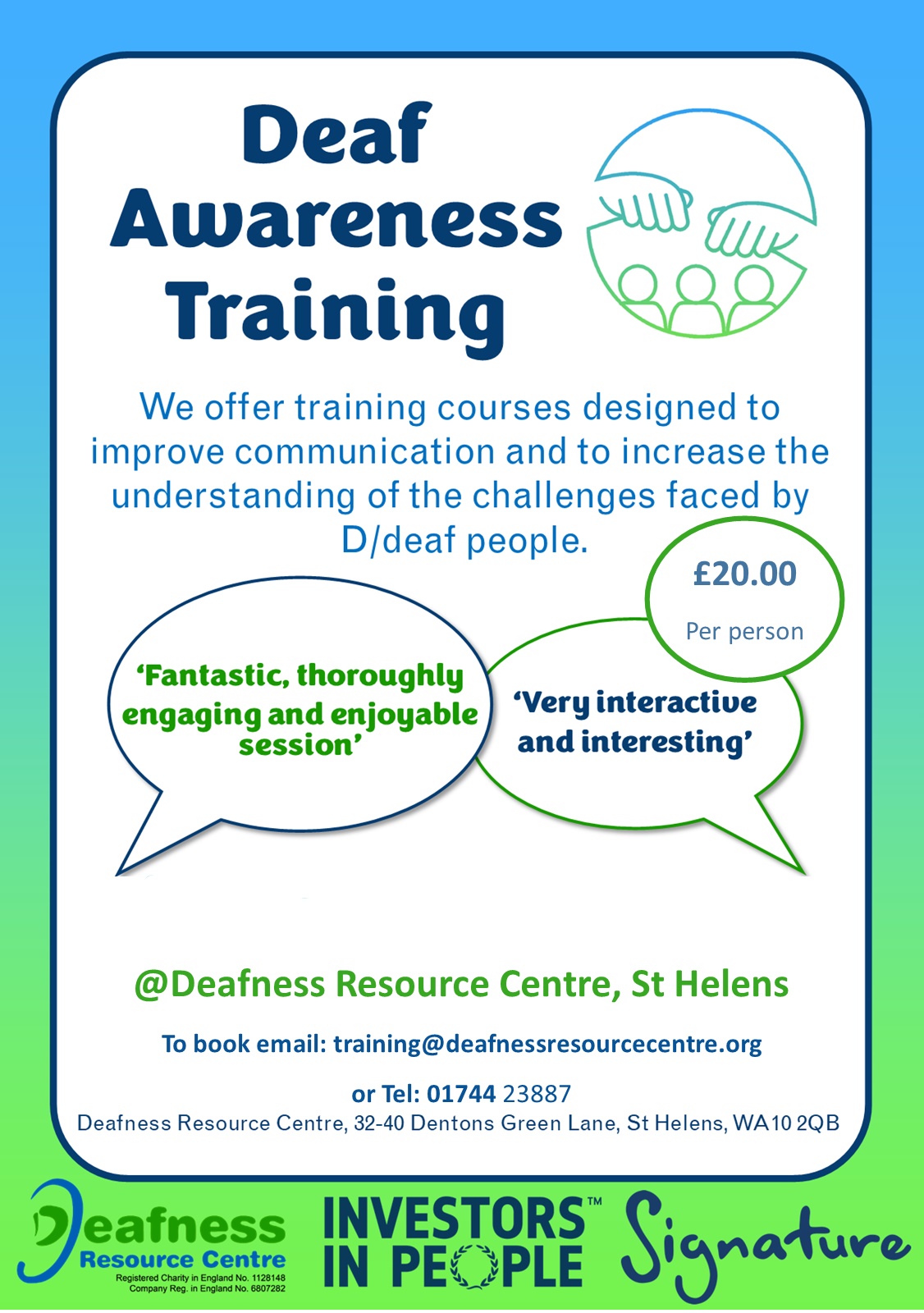 One in Six people in the UK experience deafness. Deafness Resource Centre offer tailored deaf awareness sessions across the North West, designed to improve communication and remove barriers between D/deaf people and hearing people.
Under the Equality Act (2010) Employers and service providers have a duty to ensure equal access to services and employment opportunities for D/deaf people. The overall aim of DAT is to increase the understanding of the challenges faced by people with all degrees of deafness in the workplace and in social settings. Training is available to any organisations, charities, schools, groups, or individuals.
Aims
To introduce participants to issues faced by D/deaf people in everyday life.

To introduce participants to communication tactics.
Learning Objectives
To understand the numbers of D/deaf people across the UK

To be able to describe D/deaf people with various levels of deafness using appropriate terms.

To understand Deaf Culture

To be able to attract a D/deaf person's attention

To be able to communicate through fingerspelling

To be able to sign basic sentences (e.g. Can I help you?)

To be aware of how to improve communication between speakers and lipreaders

To understand BSL/English interpreters and the levels they work at

To understand equipment and services available to D/deaf people
Training can be delivered at your own venue, our accessible training room or remotely. For information or to enquire about cost please contact: T: 01744 23887 E: training@deafnessresourcecentre.org
"Hi I have just got back from the deaf awareness half day delivered by staff at the Deafness Resource Centre. I just want to say it is the best and most valuable 4 hrs I have ever spent in a classroom. The delivery was absolutely brilliant. I can't say I will be the most prolific signer the trust will have but I will certainly continue to practise it and hopefully be able to welcome patients from the deaf community who choose to sign in their own language.
Many thanks"
Staff Nurse – Whiston Hospital
"Very good, informative and casual. Trainers were lovely and helpful"  
 "Really enjoyed it and want to learn more"
 "Wonderful educative course. Greatly received"
"Excellent training. Really really helpful to me in life and work setting. Excellent facilitation"