This is a free accessible service available for:
D/deaf and hard of hearing people
Families of D/deaf and hard of hearing people
What is Advocacy?
Advocacy is taking action to help people:
express their views and wishes
secure their rights
have their interests represented
access information and services
explore choices and options
Advocacy can help anyone who needs support to:
make changes and take control of their life
be valued and included in their community
be listened to and understood
An Advocate is :
someone who supports a person so that their views are heard and their rights are upheld.
they can help a person to put their views and feelings across when decisions are being made about their life.
they can give support which will enable a person to make choices and they inform people of their rights.
an advocate will support a person to speak up for themselves or, in some situations, will speak on a person's behalf.
advocates are independent. They are not connected to the carers or to the services which are involved in supporting the person.
an advocate will work one-to-one with a person to develop their confidence wherever possible and will try to ensure that the person feels as empowered as possible to take control of their own life
Principles of Advocacy:
Putting people first – taking on the views of the client
Confidentiality – not disclosing information unless instructed by client (safeguarding)
Accessibility – adapting the service to meet individual clients needs
Independence – not linked to any other organisations
Empowerment – aim is to empower clients so they can do as much themselves as possible.
Accountability – information relayed to client from reliable sources
Supporting advocates – trained, skilled advocates
Clarity of purpose – clear to clients what they should and shouldn't expect from advocacy
What Should I Do Next?
Contact the Deafness Resource Centre to make an appointment to see our Advocate.
Ruth Turner
Advocate for D/deaf, hard of hearing people and their families
The Advocacy Service is funded through:

Improving Access initiatives supported by our Advocacy Team:
Deaf Forums
Providing opportunities for D/deaf people to meet, learn and exchange views and opinions, through their preferred method of communication.
Access Audits/Key Partnership working
Helping service providers looking to improve access and equality for D/deaf service users and staff. Working with service providers to maintain staff awareness of D/deaf access legislation.
Hospital Liaison Work
Working with equality/ patient experience teams within local hospitals to raise awareness of the communication service and importance of Deaf BSL users having interpreters for all medical appointments.
Young People
Working with young deaf people to support them during transition periods at school or college
Schools
Working with schools and groups of young people to provide information sessions about deafness and sign language (as part of the National Curriculum or more informal sessions to suit each group)
Examples of support:
Support with benefit forms/ translation of letters and forms/ support with contacting service providers/ signposting to other support organisations. Clarification on legislation for provision of interpreters.
For more information or to request the help of our advocacy service please contact Ruth Turner:
ruth.turner@deafnessresourcecentre.org or call 01744 23887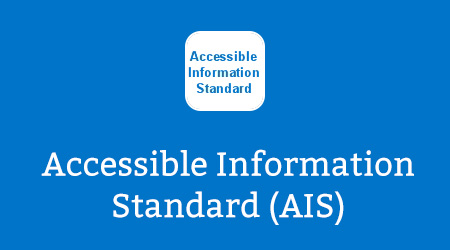 Why you need the Accessible Information Standard
D/deaf people have a legal right to receive health & social care information.