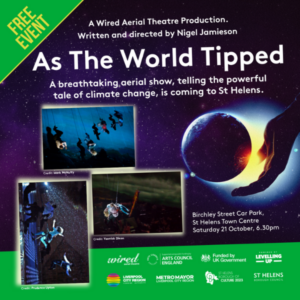 As The World Tipped by Wired Aerial Theatre
Saturday 21 October, 6.30pm
Site open to public from 5pm.
Performance begins at 6.30pm
Performance ends at 7.15pm
Venue: Birchley St Car Park, Birchley St, St Helens, WA10 1HT
As The World Tipped is free to attend with no need to book a ticket in advance.
St Helens Borough Council is delighted to invite you to attend this once in a lifetime experience to enjoy As the World Tipped by Wired Aerial Theatre, presented as a St Helens Borough of Culture headline event.
As The World Tipped has been created by the pioneering team from Wired Aerial Theatre and is one of the finest large-scale shows by a UK company. Presenting the work in St Helens as part of St Helens' year as Borough of Culture is pertinent, with Wired Aerial Theatre's St Helens-born Artistic Director, Wendy Hesketh-Ogilvie, starting her career in dance as a student at St Helens College.
Combining dramatic film and visuals with breath-taking aerial performance, this ambitious and extraordinary piece of aerial theatre tells a powerful tale of an ecological crisis with spectacle, humour, and emotion.
At the Secretariat of the Copenhagen Climate Change conference, harassed staff fail to notice as the world around them, literally and metaphorically, slides toward disaster. Suspended above the audience in the night sky, the performers struggle to control their increasingly precarious world as they do battle with the effects of a drastic environmental catastrophe.
Written and directed by Nigel Jamieson, one of the world's leading creators of outdoor spectacle (Sydney Olympics, Liverpool Capital of Culture), the show has played over 50 times, to audiences across the UK and festivals in France, Germany, Australia, Chile, South Korea, Italy and more.
To watch a short video preview and to find out more about As The World Tipped follow the link: Experience the biggest and best Borough of Culture event yet! | News | Wired Aerial Theatre
This event is fully funded through external funding from Arts Council England, the Liverpool City Region Combined Authority (Borough of Culture funding) and the UK Shared Prosperity Fund.
As the message behind As The World Tipped is the effects of climate change, attendees are encouraged to consider active or public modes of transport when travelling to and from this event.
For access requirements please contact Alison Patterson, Arts Support Officer: