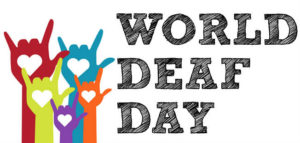 The World Day of the D/deaf is observed on the last Sunday of September, which falls on September 24th this year. This special day commemorates the rights of deaf individuals worldwide and calls upon various organisations to support and uphold these rights. It serves as a platform to raise awareness about the unique challenges faced by deaf individuals and underscores the significance of sign language, not only for the D/deaf community but for everyone.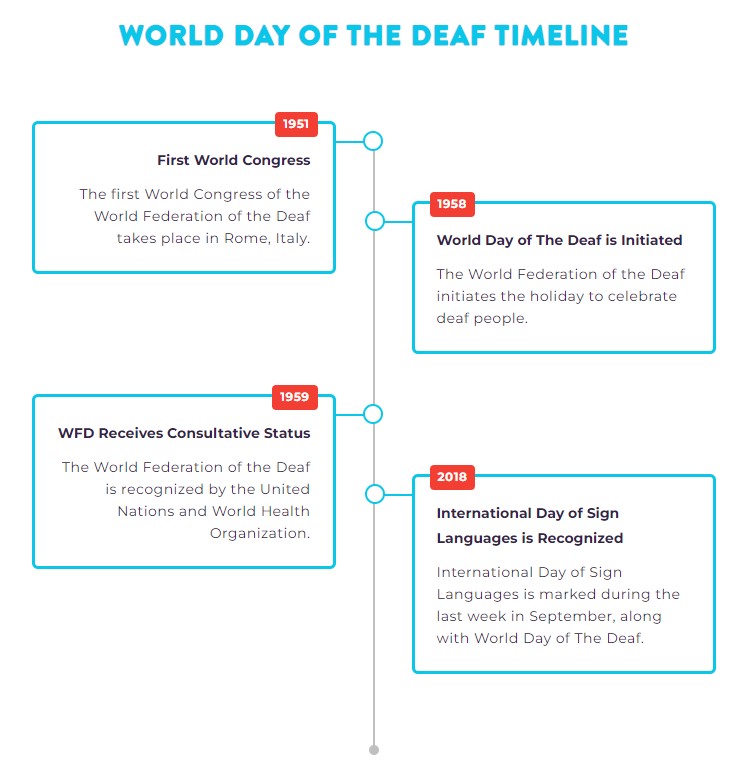 Who started World Day of The Deaf?
World Day of The Deaf was initiated by the World Federation of the Deaf in 1958.
Why is World Day of The Deaf important?
It helps to create awareness about deafness and also celebrate the achievements of D/deaf people.
Can I learn sign language?
Yes, you can learn whether you are deaf or hearing – Learning British Sign Language (BSL) is crucial for promoting inclusivity and effective communication with the Deaf and hard-of-hearing community.  It's joyable and fun and now is a recognised official language in the UK.  We have new courses starting this Autumn.  Please get in touch with us if you wish to book: training@deafnessresourcecentre.org
Breaking down barriers:
Let's work together to break down barriers and create a world where every voice, whether spoken or signed, is heard and valued. Here are a few ways you can get involved in supporting deaf culture, inclusion, and accessibility:
Learn some basic sign language: Even acquiring a few signs can make a significant contribution to fostering greater inclusivity in our world.
Share inspiring stories: Shine a spotlight on individuals who have triumphed over obstacles and achieved remarkable success within the Deaf community.
Promote accessibility: Champion the cause of closed captions, sign language interpreters, and other provisions to ensure that everyone enjoys equitable access to information and opportunities.
Attend events and workshops: Participate in local gatherings or virtual seminars to gain a deeper understanding of the experiences of D/deaf individuals.  See our What's On page for our up-coming events
Support businesses owned by Deaf entrepreneurs: Seek out and endorse enterprises owned by D/deaf individuals.
Let's raise our hands and our voices in support of these initiatives for deaf culture, inclusion, and accessibility.
Why we do what we do:
Testimonial:
"I don't know where we would be without the Deafness Resource Centre. They have helped us as a family immensely.

For my Grandchild, she has met new deaf peers with a range of hearing loss. As a deaf child with cochlear implants she has learned so much about the deaf community is currently learning level 1 BSL, which the DRC helped to secure funding to pay for the course. She can now communicate with those who use sign language, this enables her to interact with everyone.

She has attended a youth residential trip which she loved, she tried so many new things and is looking forward to the next one later this month. She has enjoyed the other activities with her peers both at the centre and outdoors.

All these sessions have helped her grow in confidence, motivation and her outlook on life has changed hugely.

For me, as a carer, the DRC are always there. I know I can ring or email any time for help and advice.

It has been lovely meeting other families and to know I am not alone in dealing with some of the difficulties in caring for a profoundly deaf child.

I have been helped with a door bell and sleep alarm so my Granddaughter can maintain her independence and not rely on me to get her up of a morning especially with college starting soon.

The Deafness Resource Centre is a lifeline for many families and I am grateful that it is here".
Photo: Staff from DRC, 2023 Deaf Awareness Week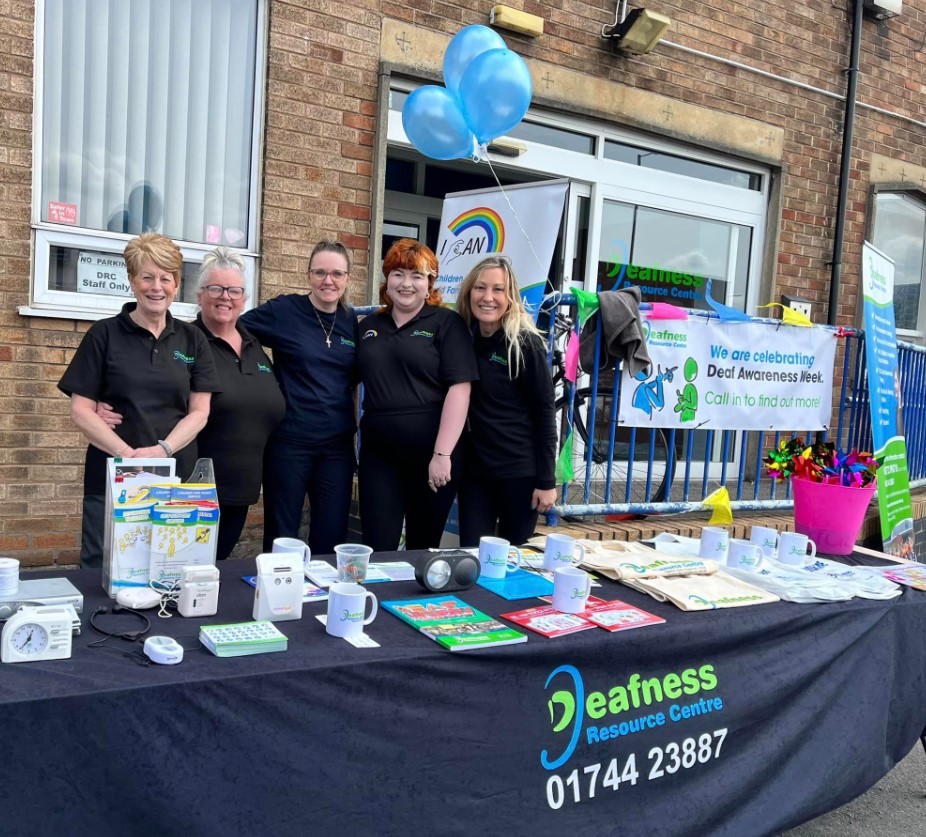 What we offer: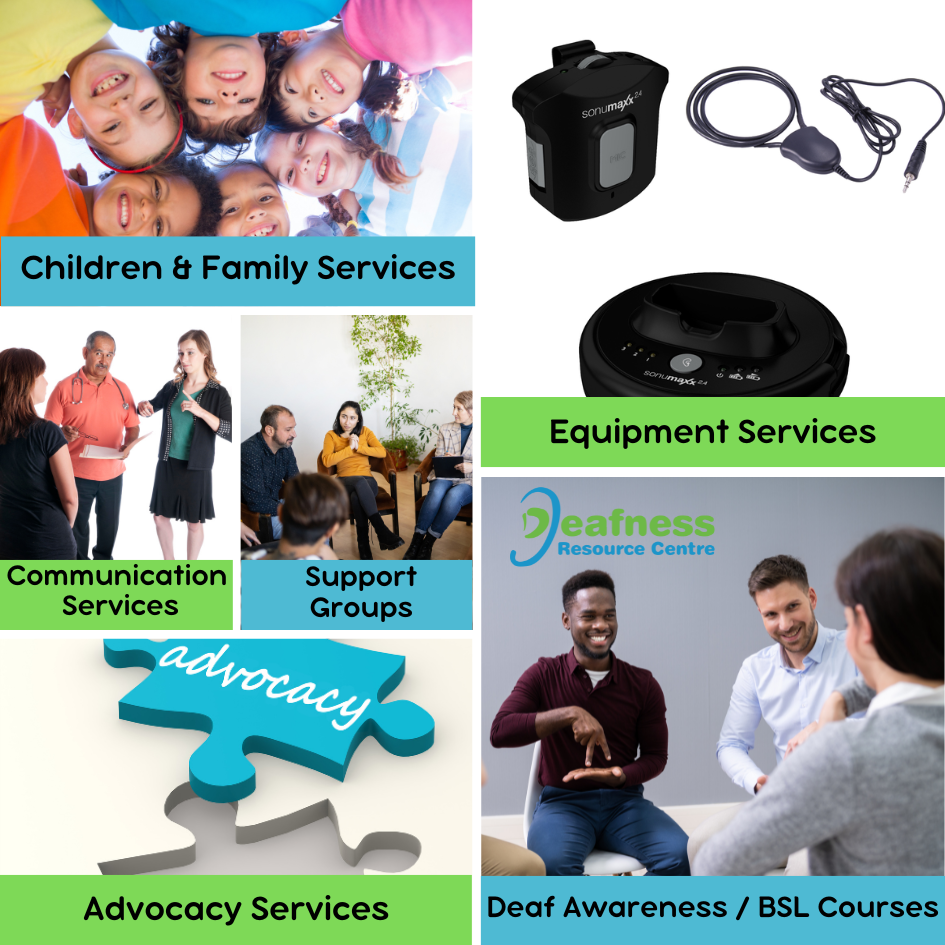 DRC aim to deliver high quality services that empower, enable and support the D/deaf community
If you have any questions or wish to engage in our services please contact use.  We are here to help
tel: 01744 23887